Update: Read the latest tips for the 2017-18 Common App.
This morning, the Common Application sent out their "September 2013 School Officials Update," which offers a few tips and reminders for completing CA4. According to their newsletter (sign up for it here), they are now "actively exploring how to clarify processes surrounding print preview, fee waivers, self-reported testing, and essay pasting." Clearly, the bugs and glitches we saw surrounding the new Common App were not limited to the first few days of its existence! Until using the Common App becomes a truly hassle-free experience, here are a few more suggestions to help you best manage CA4.
13. Check out those Help Center tips to the right of your screen
Those little notes that you probably have been ignoring can actually contain incredibly important pieces of information! Take this screen shot from the University of Chicago's writing supplement page: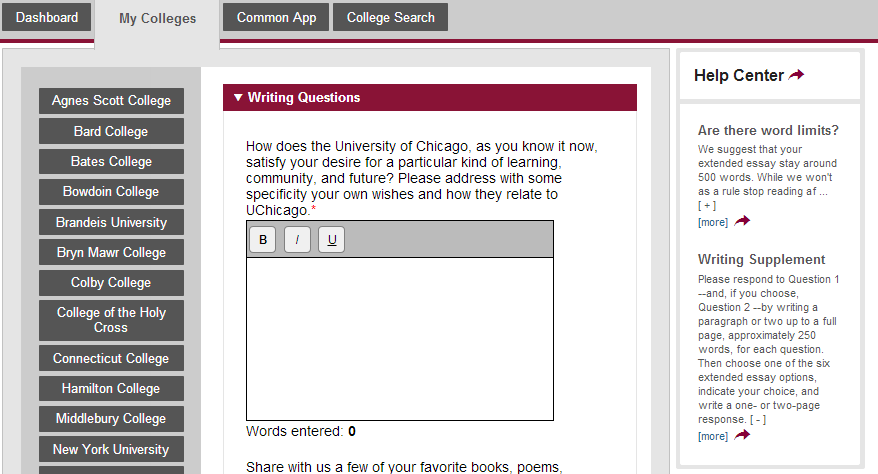 When you click on the little [+] sign, the tip expands to reveal suggested word limits for their supplemental essays: 250 words for the short essays and approximately 500 words for the extended essay. Good to know, right? Or how about this note on Bard's general questions tab: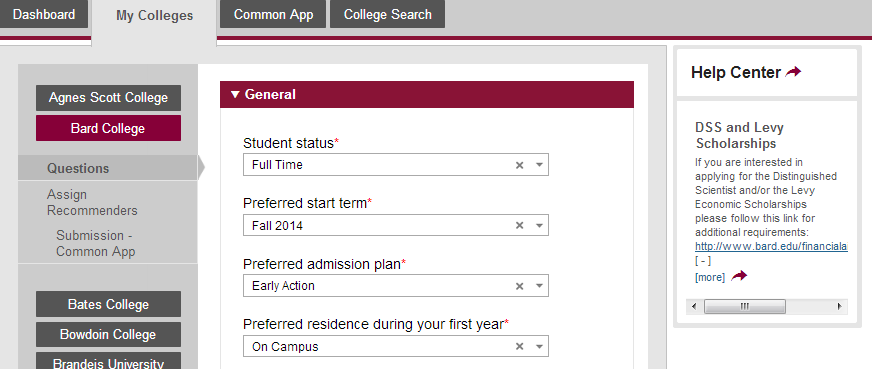 That's right! If you happened to miss that little item to the right of your screen, you wouldn't know to apply for a full tuition scholarship dedicated for science and math majors. Take your time filling out each page of the application, and don't forget to peruse those tips!
14. More tips on formatting your essay
According to Microsoft Word, my essay comes in at exactly 624 words. When I cut and paste that same essay into the "Personal Essay" text box of the main application, the word count suddenly becomes 594. A different essay of 650 words transforms into 602 words on the Common App. What's going on here? When I emailed the Help Desk for advice, a tech named John replied, "Do this: copy your essay into note pad, and then re-paste it back into the common application." As it turns out, Microsoft Word sometimes adds invisible formatting to your text that may be affecting the word count feature of the Common App. To allay your fears that huge chunks of text are magically disappearing from your essay, first transfer your essay into Notepad (for Windows users) or TextEdit (for Apple users). These plain-text applications will strip your essay of all hidden formatting so that cutting and pasting your essay into the Common App should give you a more accurate word count. (Although the last time I tried it, the Common App was still off by one word!)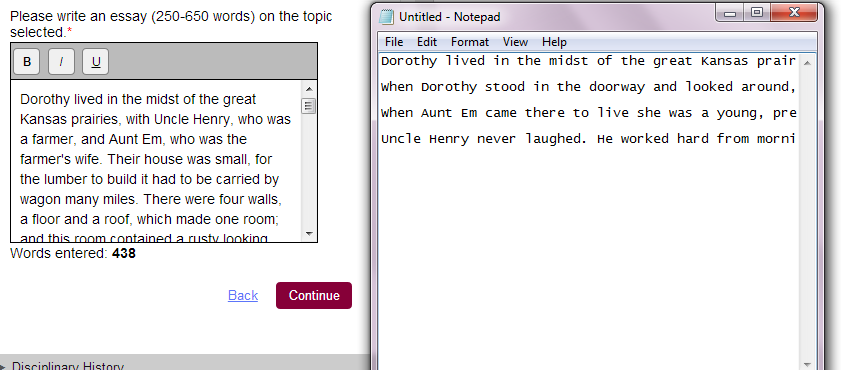 15. Known issues and progress updating
A few of our students have informed us that their high schools are having difficulty uploading transcripts and recommendations through Naviance. According to the Common App's "Known Issues" page, this is a problem their IT folks are keenly aware of and are working to solve. We imagine that both Naviance and the Common App will have solutions in place soon.
16. Updating your Common App personal statement
Students are allowed to make corrections to their main essay up to three times. In years past, students could create multiple versions of their application and toggle back and forth between the various forms without difficulty. Now, students who wish to update, correct, or in some way personalize their main essays must be aware that once they've made three edits, no more changes are allowed. After you submit your application to School A, you can "unlock" your essay to make any necessary edits. Then you can submit it to school B. If you wish to make additional changes, be sure you're happy with your changes after the third alteration; you're locked in from that point on! The rest of your application, however, can be edited and changed an unlimited number of times.
For updated tips for the 2015-16 Common Application, take a look at our latest posts:
For all of our 2013-14 Common App tips, be sure to check out the rest of the posts in this series:
Do you have questions about the new Common App? Submit them here, and one of our experts will post a response!