Update: Read the latest tips for the 2017-18 Common App.
I know, I know. I promised you 10 tips to help you make the most of the new Common Application. But I can't help it! If you missed the first two posts, be sure to read part 1 and part 2. Here are two more important facts I'd love to share with you.
11. Where can I upload my résumé?
When Common App officials first spread the word that résumé uploads would no longer be part of the main application, they attempted to assuage families' fears by saying résumé uploads would be possible if specific colleges asked for such documents on their supplements. Seems fair, right? But now that we've had a chance to view more than 100 supplements, it's clear that the majority of schools are not asking for a résumé. Just a handful—I would estimate less than 10 percent—give applicants a chance to append an "additional document."
So what should you do if you have a killer résumé that needs to get into the hands of the admissions committee?  Share it with your guidance counselor. While you could certainly mail a copy of your résumé to each of your schools individually, it's less likely to be misplaced if it arrives in a stack of official school documents. While perusing various schools' policies regarding supplemental materials, however, be aware that some schools (e.g. Stanford) really don't want to receive any extra documents! If this happens to be the case, resist the urge and don't send it! Not following directions can have a way of annoying the very people you're trying to impress.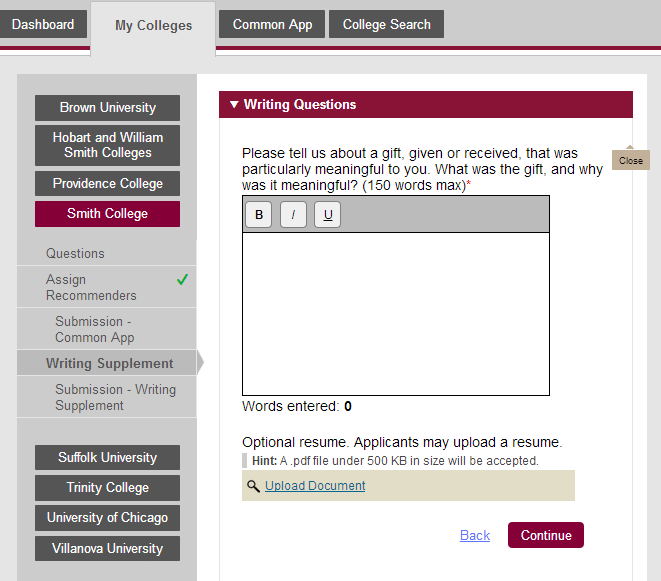 12. Selecting your academic interest
On most school specific supplements, students are asked to identify one or two (or possibly more) areas of academic interest. Amherst's question reads, "Please indicate your primary academic interest," while Bard's is worded, "What academic program at Bard College interests you?" In both of these cases, be aware that not all of the choices available on the drop down menu are actual majors offered by that institution! Under Amherst you'll find choices for "Pre-law" and "Pre-med," both of which are advising tracks and not actual majors. Even more surprisingly, you'll find "Military Sciences" and "Nursing" on Bard's supplement, courses of study that are completely out of place (and definitely not options) at this liberal arts college.
So, as you're making your academic selections, do yourself a favor and double-check the school's website. If you can confirm that your academic area of interest is indeed available, by all means choose it! If not, select a similar major or simply opt for "Undecided."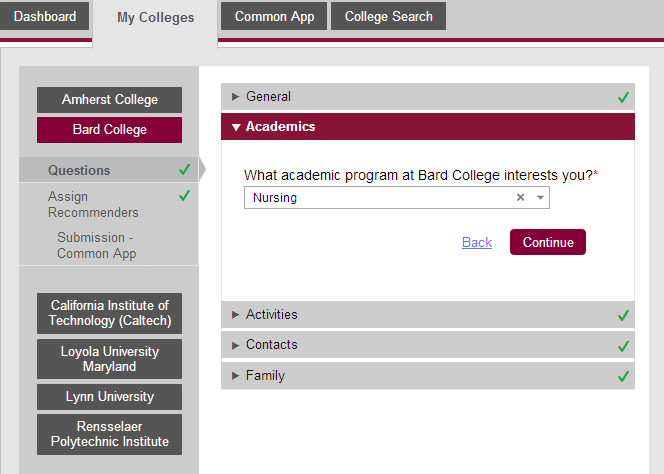 For updated tips for the 2015-16 Common Application, take a look at our latest posts:
For all of our 2013-14 Common App tips, be sure to check out the rest of the posts in this series:
Not sure which colleges to apply to? College Coach admissions experts can help you find your best fit colleges and provide personal assistance during the application process. Contact us for more information.