Update: Read the latest tips for the 2017-18 Common App.
Your personal statement in your college application is complete and your activities page looks flawless. Now it's time to turn your attention to the "My Colleges" tab and submit your Common Application!
My Colleges: Writing Supplements
So here's my biggest pet peeve with the Common App this year. The school writing supplements can be anywhere!  While some colleges don't require any additional essays (such as Fordham, Ithaca, or Middlebury), many colleges do. To access those supplements, you'll need to head over to the "My Colleges" tab. Click on the name of a school (see the Hampshire example below). In the left hand menu, if you see a "Writing Supplement" heading with "Questions" listed below it, some kind of additional writing is required.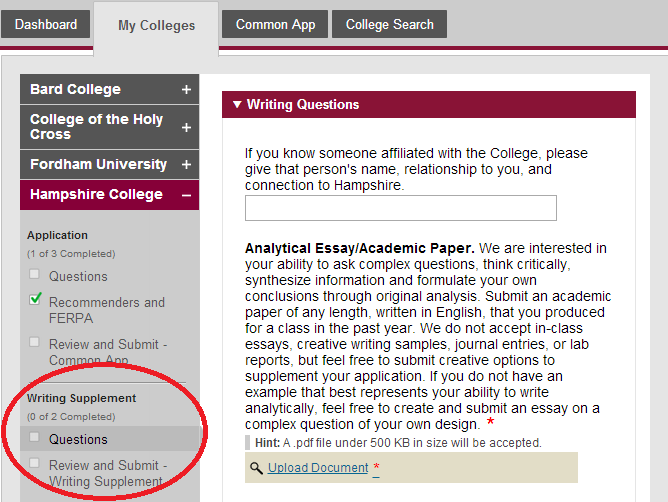 But for some schools, the supplemental essay isn't listed as a formal "Writing Supplement." Boston University's additional essays are hidden under "Essay Questions" on the "Application Questions" page, while Goucher's essays are located on the "Academics" tab of "Application Questions."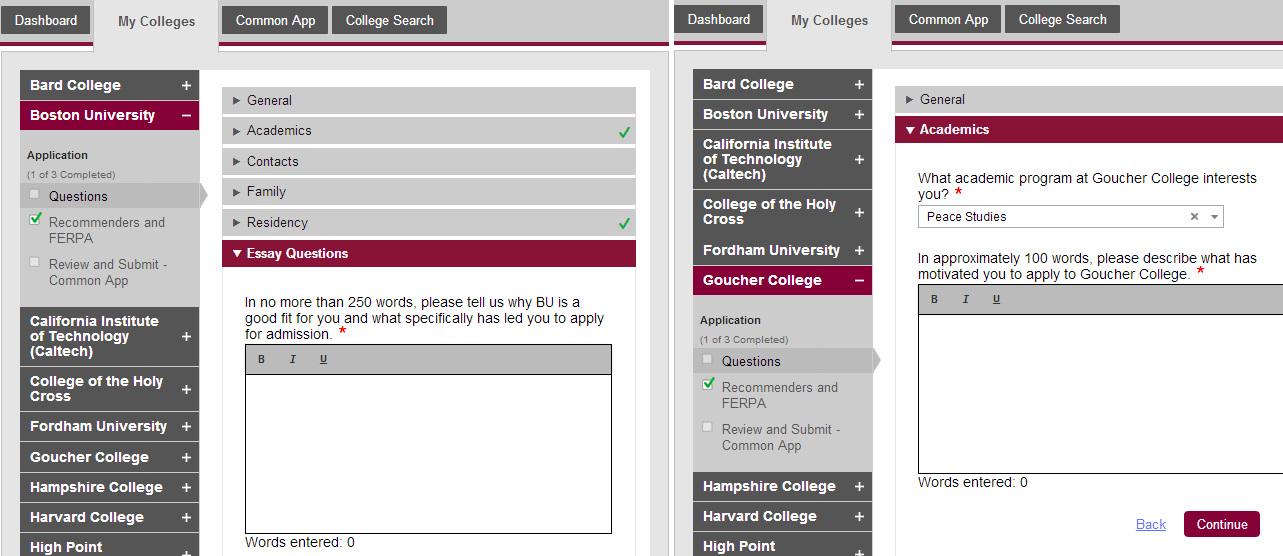 To make matters worse, some schools that do have writing supplements are showing up as not having writing supplements on the "Dashbard" tab of the Common App. Do you see the red dashes under the "Writing Supplement" column below? That's meant to indicate which schools don't include a writing supplement as part of their application. But because Caltech lists their extra essays on the "Required Short Answers & Essay Prompts" tab under "Application Questions" (and not as a "Writing Supplement"), students could easily assume that Caltech doesn't require additional writing – when, in fact, they do!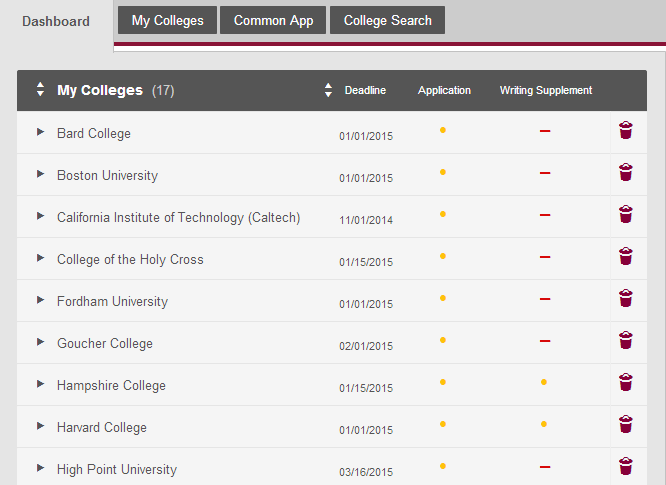 To be fair, this really isn't the Common App's fault; it all comes down to how colleges are choosing to classify and organize their supplemental questions. Cornell University places their extra questions in the "Writing Supplement" section, while Lewis & Clark College does not. There's no rhyme or reason to it.  So, seniors, be extra cautious when filling out each school's supplement. You never know where an extra writing assignment may be hidden.
Submitting the Common App
In order to print preview and submit your application, every section of your Common Application (as well as the school-specific questions on the "My Colleges" tab) need to be complete. If your Common App shows all green check marks, you're in the clear. If the check mark is missing, you'll need to go back into that particular section and look for a question marked with a red asterisk. Then, and only then, will you see the "Review and Submit" button on the "My Colleges" tab.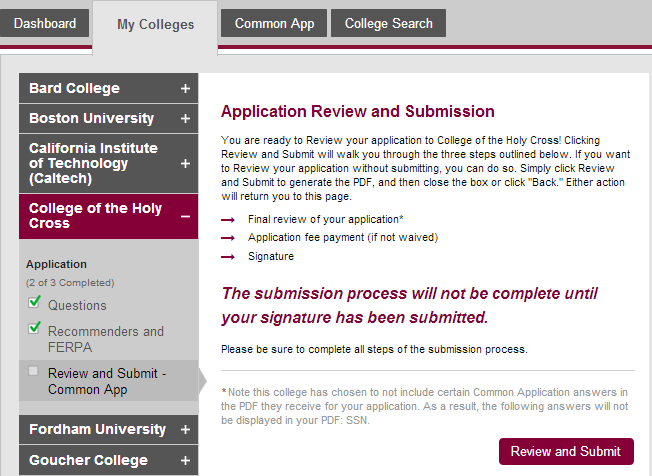 Don't worry – nothing will be submitted until after you proof a PDF of your Common App, pay the application fee, and complete the signature page.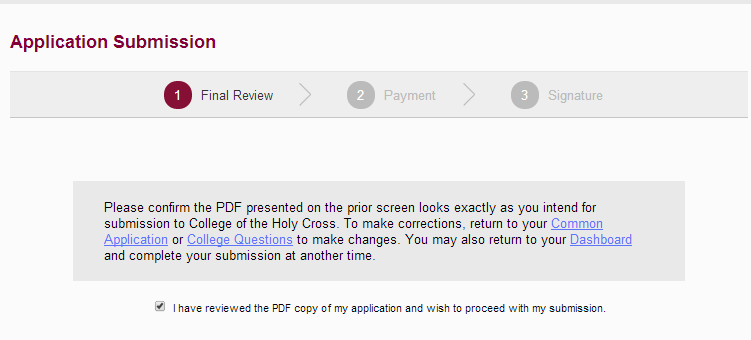 One final tip for completing the Common Application: occasionally, as I was playing around with my own application, I'd notice that essay text boxes would suddenly vanish. I could still see the essay prompt, but the space to type in a response had disappeared. After contacting the Common App Help Center at 9:30 on a Saturday morning, I received a helpful and courteous response. I closed my browser (I was using Google Chrome) and re-opened it. After logging into my Common App account again, the problem had corrected itself.
We hope this insider's view into the Common Application has been helpful! Please feel free to post questions about your own Common App experiences below. One of our admissions experts will be sure to respond! (And for those of you who are looking for an alternate to the Common App, be sure to check out the Universal College Application – a very user-friendly application that's accepted by dozens of top colleges across the country. Our UCA tips blog will tell you all about it!)
For all of our Common App 2014-15 tips, be sure to check out the rest of the posts in this series:
For updated tips for the 2015-16 Common Application, take a look at our latest posts: