Update: Read the latest tips for the 2017-18 Common App.
Welcome back! For those of you who have already begun the process of completing your Common App, I hope you're not encountering too many difficulties. Just think, in a few months, your college application will be finished and in the hands of dedicated admissions officers who will be hard at work, crafting the Class of 2019! But for now, let's get back to the nuts and bolts of completing your Common App.
Common App: Testing Page
Tests Taken: We received so many questions from students regarding this section of the application last year. Students who were planning on utilizing Score Choice were reluctant to complete this section as they were worried it might "look bad" if it was left it blank. Other students wanted to report just ACT scores (and not SAT scores), but were concerned colleges might accuse them of not truthfully answering the question. If you read the directions carefully, you'll note that the Common App instructs students to "indicate all tests you wish to report." This means that students who want to self-report some test scores (and omit others) are ethically allowed to do so. While leaving the entire "Tests Taken" section blank is a perfectly acceptable option (and one I often encourage my students to do), rest assured that you can pick and choose to self-report whichever tests scores are the best for you. If you've taken the SATs twice, for example, and you want to report the Critical Reading score from the May test, and the Math and Writing scores from the June test, this is easy to do. Just keep in mind that if you've taken the SAT four times, you do technically have to disclose that when the Common App asks, "Number of times you have already taken the SAT."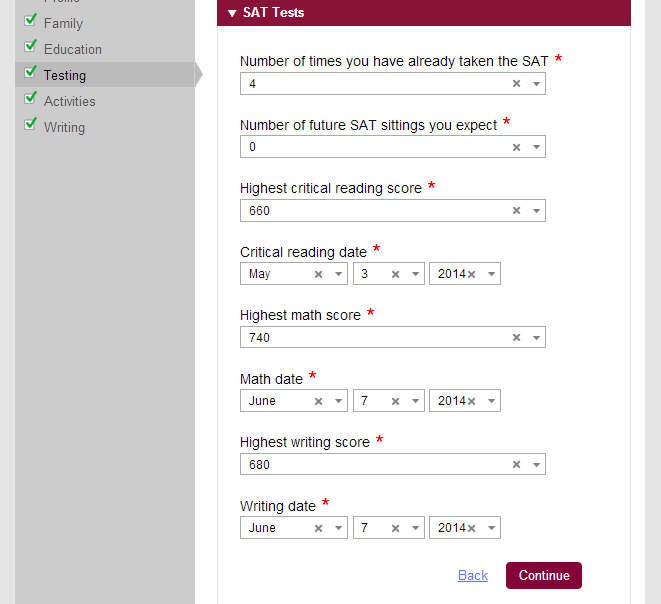 Common App: Activities Page
There is room to list 10 extracurricular activities on this page of the application, and we recommend that you try and complete this section as fully as possible. While you don't need to list all 10 activities to stand out, including just one or two can give the impression that you weren't very involved in high school (and, by extension, you may not be very involved in college). One quick tip: be sure to list the name of the activity/club/organization you're involved in on the "Position/Leadership description" line. As an admissions officer, I remember seeing students type in "Vice President," but I'd have no idea what club they were VP of!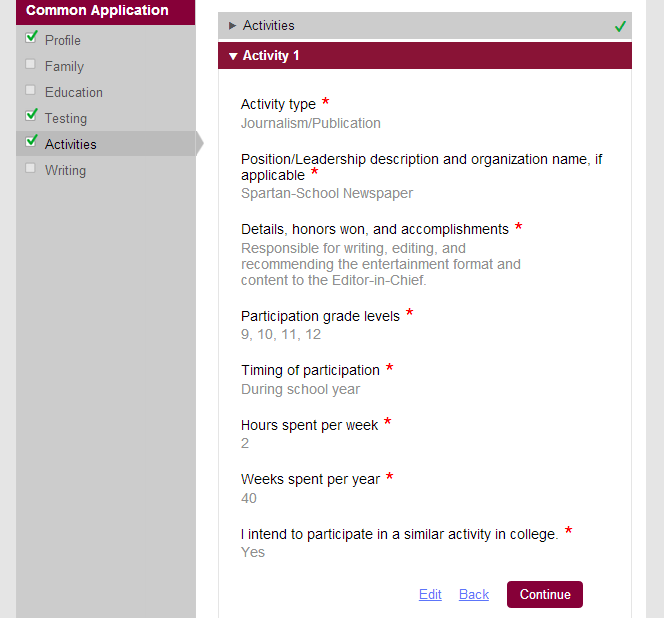 For more résumé tips, visit our Common App blog (part 1 and part 2) from last year.
Common App: Writing Page
Personal Essay: The tech gurus over at the Common App heard our pleas! All of last year's formatting issues seem to be gone. Students can now indent their paragraphs (using the spacebar, not the tab key) and format text with italics, bold font, and underlines at will. The word count feature seems to be working properly, too, so there's no need to hyperventilate about disappearing text!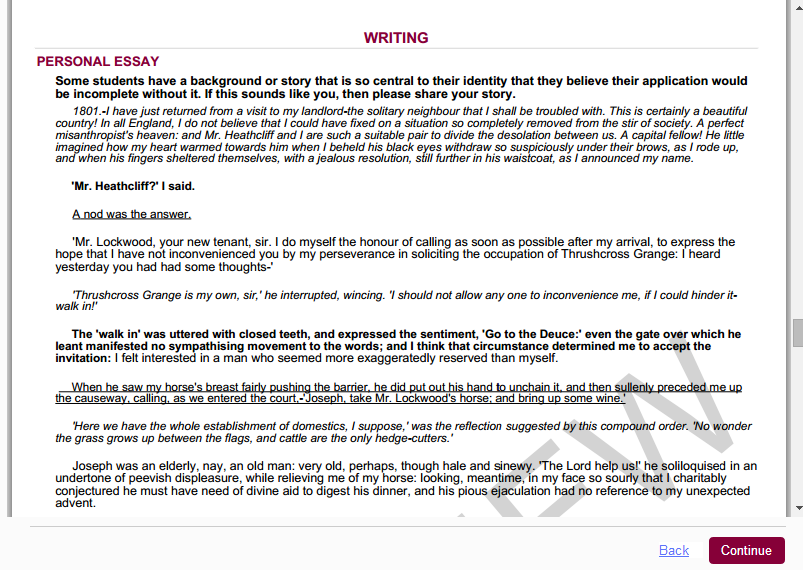 For suggestions on choosing the best essay topic for your Common App, take a look at our post on the College Coach blog.
Congrats! You're in the final stretch. All that remains are school-specific supplements. Sounds manageable, right? Stay tuned to learn about a little secret we discovered regarding supplemental essays. You're not going to want to miss this!
For all of our Common App 2014-15 tips, be sure to check out the rest of the posts in this series:
For updated tips for the 2015-16 Common Application, take a look at our latest posts: