Update: Read the latest tips for the 2017-18 Common App.
If you're a rising high school senior, chances are you'll be using the Common Application to apply to college this year.  An amazing 800,000 students submitted 3.45 million applications through the Common App last year, and even more students will likely take the plunge this year. Those of us in the profession know all too well about the major technical snafus the Common App experienced with the release of version CA4 in 2013. Paragraph breaks in the main essay weren't displaying properly, there were serious lag times when trying to print preview the application, and students were at a loss for how to navigate the self-reported testing page.
That was the bad news. Now here's the good news. The 2014-15 Common Application launched on August 1, and so far – everything seems to be going smoothly! I registered myself and was able to complete the application (minus essay writing process) in about an hour. While some of our criticisms of last year's Common App are still an issue, enough changes to the online application have been made to improve the overall experience. Read our application tips below for completing the 2014-15 Common Application, and don't hesitate to post a question below as you work your way through the Common App!
Common App: Profile Page
The profile section of the application includes basic biographical information, such as your name, address, preferred method of contact (home phone or cell phone), etc. As long as you complete every question that appears next to a red star, this section of the application should be quick and easy to complete.
Common App: Family Page
Household: Whether you live with both parents, one parent, a step-parent, or another legal guardian, the Common App has you covered! On the "Household" tab, you can personalize your responses to accurately depict your specific living situation.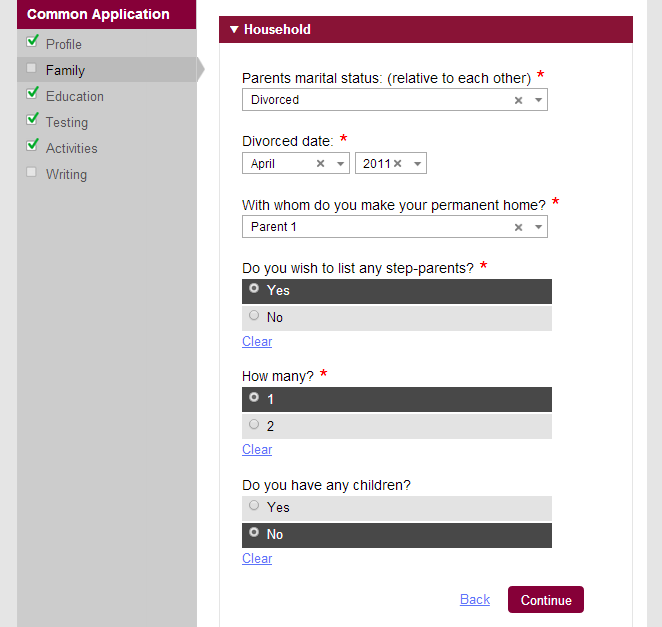 Parent 1: On the "Parent" tabs, don't fret if you can't find an exact match for your parents' occupations. Simply select the "Other" option, and type in the appropriate title (e.g. "Librarian" or "Financial Analyst.") Stay-at-home moms can be listed under the "Homemaker" option.
Sibling: For those of you with siblings, pay careful attention to the "educational level" question.
"Some grade/primary school" refers to a sibling who is currently attending elementary or middle school.
"Completed grade/primary school" is for siblings who finished elementary or middle school, but (for whatever reason) never enrolled in high school.
"Some high/secondary school" describes siblings who are currently high school students.
"Graduated from high/secondary school" refers to a sibling who graduated from high school but did not attend college.
"Some college/university" is for siblings who are currently attending a 2- or 4-year college.
"Graduated from college/university" describes siblings who earned their 2- or 4-year college degree.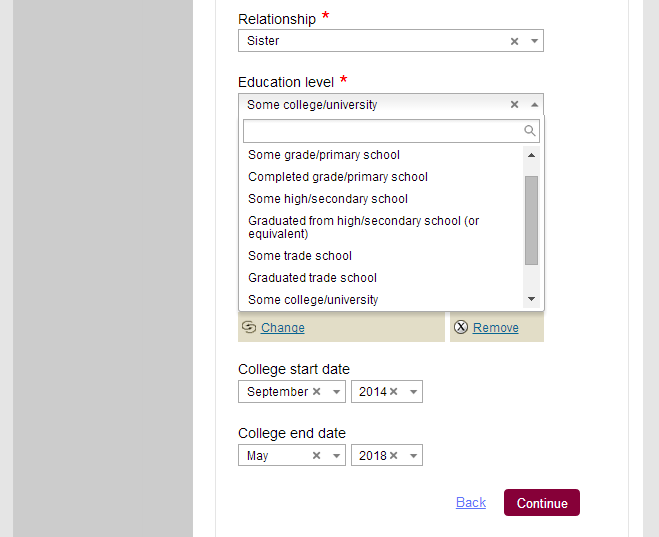 Common App: Education Page
Other School: While most students attend just a single high school, be sure that you complete the "Other School" and "Education Interruption" sections if you changed schools at any time during 9-12 grades. By checking the "did or will change secondary schools" box, you will be required to complete a short essay on the "Writing" page towards the end of the application to explain this so-called "interruption in your education." As an admissions officer, I saw a lot of students leave this essay blank (or simply type in "n/a"), but college officials are truly interested in learning why you switched schools during your high school career. Sometimes a change in schools provides a context for a student's dip in grades or another anomaly on a student's transcript.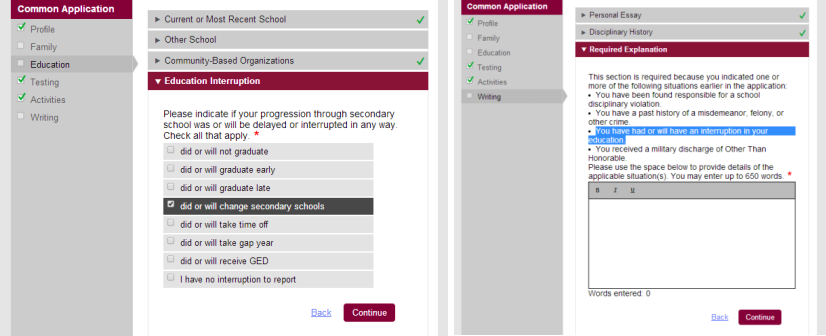 Community-Based Organizations: If you participate in a CBO that provides support to college-bound students, such as College Horizons, Gear Up, KIPP, or Prep for Prep, you should complete this section. Otherwise, mark "0" and move on to the next question!
College & Universities: Students enrolled in AP courses may be tempted to complete the "College & Universities" tab, but this section is only for students who completed a college course (usually online or on a college campus). Most students will select "0" for this question, and that's okay!
Grades: Note that there is just a single required question on this tab… "graduating class size." Unless you are 100 percent clear about your high school rank or cumulative GPA, we suggest that you leave the rest of this section blank. Colleges will be able to learn about your rank (if your high school reports it) and overall GPA on the official School Report.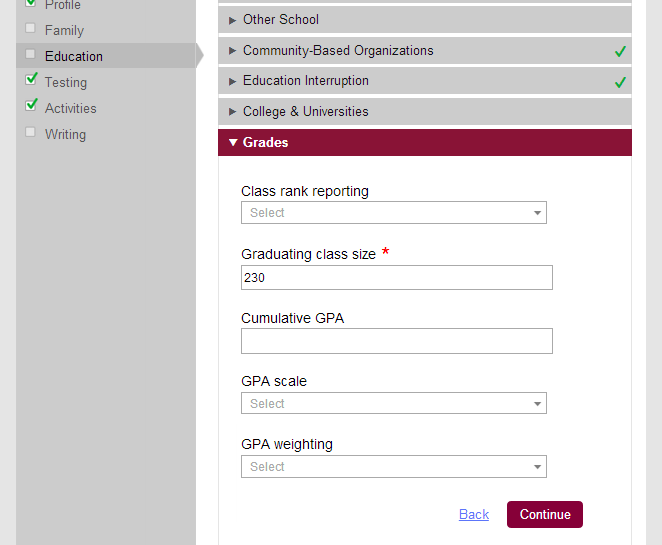 Honors: This is where you can list honors or awards such as National Honor Society, National Merit Scholars, college book club awards, etc. Note that there is room to include five honors/awards. If you need additional space, consider including your remaining achievements on the "Additional Information" section of the "Writing" page.
Coming up next: strategies for completing the activities page and the writing page, which contains the all-important personal statement.
For all of our Common App 2014-15 tips, be sure to check out the rest of the posts in this series:
For updated tips for the 2015-16 Common Application, take a look at our latest posts: