Universal College Application Tips: Alternate Versions and How to Request Letters of Recommendation
You're in the home stretch! Now that you've filled out the Universal College Application, just a few steps remain. Read on to learn about creating alternate versions of your application, as well as how to request letters of recommendation from your guidance counselor and teachers. And stay tuned for our insider's view to using the Common Application. Expert tips on completing the Common App will be posted in August.
Step 8:
Once every required field is complete and you've had a trusted adult (or two) proof your application for typos, you'll be ready to submit your UCA. Similar to the Common App, once you've submitted your application to schools A, B, and C, you won't be allowed to make any changes on your forms for those particular schools. However (and this is a BIG however), you can create as many "copies" of your application as you like for submission to other schools. Which leads me to my next tip…
✔ Application Tip & REALLY nice change from the Common App: If you want to apply as an English major to some schools but a creative writing major to others… if you want to submit SAT scores to some schools but ACT scores to others… if you want to submit an essay about community service to some schools but an essay about sports to others… you can easily create unlimited "copies" of your original application (even before it's been submitted!). The Common App frowns on this. Really frowns on this. So much so that they limit you to three versions of your application (one original plus two alternates). But the UCA lets applicants decide if, how, and when they want to personalize their application. To save yourself some time, you will probably want to plan this out in advance:
On a scrap piece of paper, figure out how you'd like to "group" your schools based on the number of application versions you'll need to create. Perhaps you need two groups: one where you'll be applying as an economics major; and one where you'll be applying as a business major.
Only add the schools from group 1 to your application list first. These schools will now be linked.
When you're ready to create a copy of your application, add the second group of schools to your list. On the "application" page, click on the "start new" button if you want a blank application that you have to fill out from scratch; or select "start as copy" if you want to pre-load information from a previous version you created. If you do the latter, you'll still have the option of editing or tweaking any sections you like.
While these guidelines may sound a little tricky, the UCA is very forgiving! If you make a mistake and place a school into the wrong application group, just delete it and try it again. (You delete a school from your college list by going to the "my colleges" tab and clicking on the "i" button; then select the "in progress" tab and hit "remove.")
Step 9:
Pay your application fees and complete any required supplements for colleges that ask for additional essays or school-specific information.
Step 10:
To request that your teacher or school counselor complete a letter of recommendation, click on "school forms" at the top of the main page. You'll note that required forms are grouped by form type. Examples include: early decision agreement; first marking period; instruction recommendation; school report; midyear report, etc. So let's say you want a teacher to submit a letter of recommendation to the University of Rochester on your behalf.  Under the "instructor recommendation" section, click on the "request new instructor recommendation" button. You can then choose which schools that teacher will submit his/her letter to. Note that your teacher/school counselor must have a valid email address to complete the online form. Printable PDF versions of the recommendation forms are available at www.universalcollegeapp.com should your teacher/counselor prefer to submit his/her letter offline.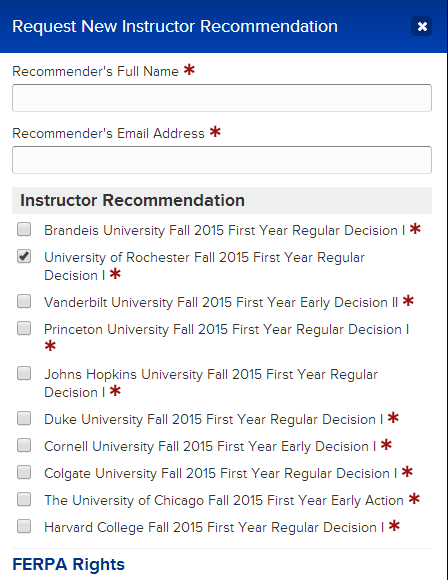 ✔ Application Tip: Should you run into any difficulties while completing the UCA, click on the "help" link from any screen (it's located in the upper-right hand corner) or visit https://applywithus.kayako.com/uca.
That's it! You're done. Given this is my first time using the Universal College Application, I cannot overstate how impressed I am by how intuitive and user-friendly this system is. If only more colleges would join the UCA membership group, the Common App would really get a run for its money!
We hope you've enjoyed the final installment of our tips for the Universal College Application. For all of our Universal College Application tips, be sure to check out the rest of the posts in this series: