Rising seniors: anxious to get a jump start on applying to college? Can't wait until the Common App goes live on August 1? If you plan on applying to Brandeis, Colgate, Cornell, Duke, Harvard, Johns Hopkins, Princeton, Rice, Tulane, the University of Chicago, Vanderbilt, or any of the other 33 other U.S. colleges and universities that use the Universal College Application, you're in luck. The Universal College Application launched July 1.
An alternative to the Common Application, the Universal College Application (UCA) is run by ApplicationsOnline, a for-profit company that deals exclusively with application services. And if you happen to remember the good ol' Common App (the one that didn't cause thousands of teenagers to scream at their computers and lose sleep over unrelenting glitches and submission errors), you'll be happy to know that the founder of the ApplicationsOnline helped to create that original Common App.
So if you're ready to take the plunge, here's what you need to know about completing the Universal College Application. Consider this your walkthrough guide for the UCA! Follow these steps and you should be able to complete the online application (minus the essays) in 35 minutes or less.
Step1: Head to www.universalcollegeapp.com and register as a new user.
Step 2: Complete the applicant profile.
This is an incredibly simple four-page form that asks for your name and basic contact information. The "early decision applicants" page is an agreement form only for students who plan on applying to one of the UCA colleges under a binding early decision (ED) program. If you're not sure about your ED plans, skip this page. You can always come back to it later!
✔ Tip: If you want to keep your applicant profile private, don't check the "Allow colleges to see my completed Applicant Profile" box! Otherwise, you may start receiving unsolicited emails from UCA colleges, encouraging you to apply.
Step 3: Add colleges to your list.
For rising high school seniors graduating in 2015, click "add" next to the appropriate college's name; then select "fall 2015" and "first year" on the pop-up screen. Next you'll see all of your options for applying to that particular school (early decision, early action, regular decision, etc.). Alternatively, you can use the drop down menus on the top of this page to select your term, program, and decision plan. Then when you click "add," your specific term/deadline preferences will already be saved.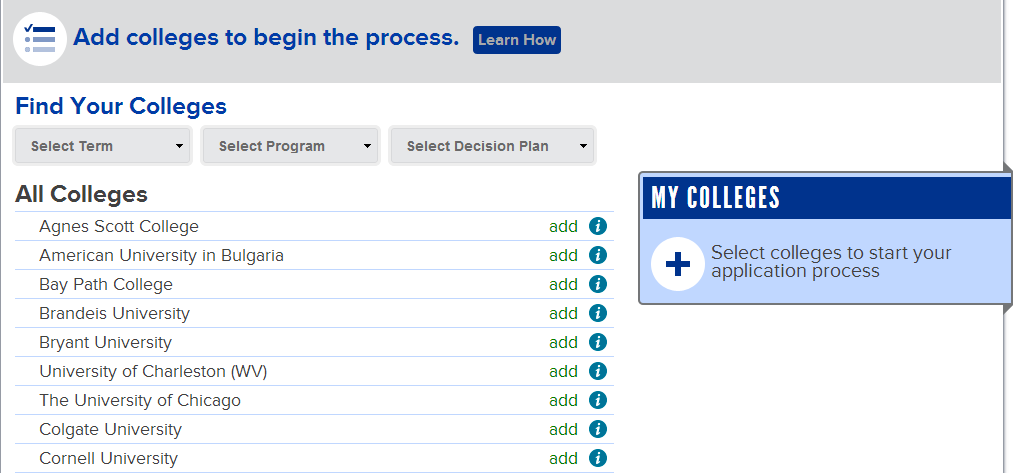 ✔ Tip: Once you select "early decision" for one UCA school, you'll see that option becomes unavailable for all other UCA schools you might add to your list. See below for an example from Johns Hopkins.
Step 4: Begin filling out the actual application.
This eight-page form consists of the following sections: personal data; application information; family information; academic information; standardized tests; extracurriculars and work experience; personal statement; and additional information.
✔ Tip: On the "application information" page, the "possible major" field provides you with a generic list of academic options. These are not school specific!! Cornell, for example, doesn't offer an oceanography major. To help personalize your application (and to let colleges know that you know what majors they offer), don't select an option that isn't available at all the schools to which you are applying.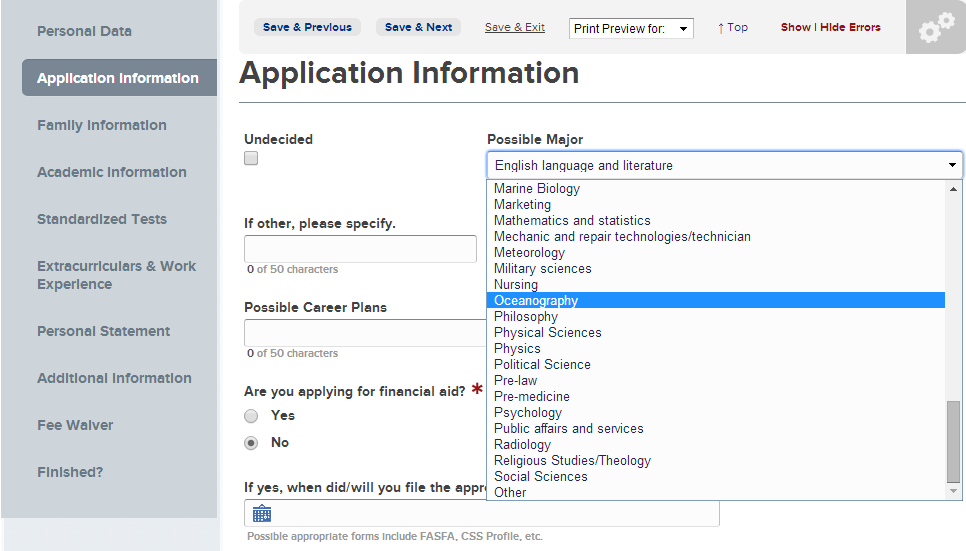 Nice change from the Common App: Also on the "application information" page, you'll note that the "possible career plans" is an open text field (not a drop down box), meaning that you can type in anything that floats your boat, whether it's "cardiothoracic surgeon" or "organic farmer."
Nice change from the Common App: When you reach the "family information" page, you might be blown away by the plethora of options for your parents' professions. Whether you have a parent who is a model, a massage therapist, a cementing and gluing machine operator and tender, or a parent who is retired, the UCA has an option for you!
⚠ Caution!: Please note that on the "extracurriculars and work experience" page, the field labeled "describe activity" (which is really the place for you list the title of your club/organization) is short. Very short. At just 29 characters, "High School Musical Productions" doesn't fit, but "High School Musicals" will. The same goes for the "position held, honors won, or letters earned" field. This text field provides you just 30 characters to expand on the details of one activity. You should also be aware that there is only room for seven extracurricular activities and five work experiences on the UCA. (The Common App gives you room for 10, but you can use all 10 of those spaces for clubs and none for work experiences if you so choose.)  If you find that your extracurricular activities warrant additional explanation, or you have more than seven worthwhile clubs to list, consider uploading a résumé on the "additional information" page.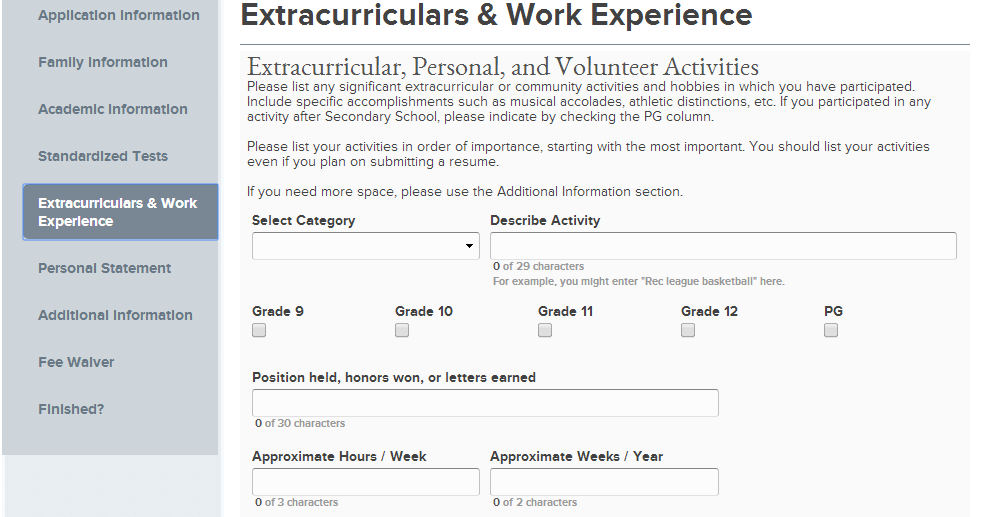 Part one of our three part series on the Universal College Application should give you just enough to help you get started. For all of our Universal College Application tips, be sure to check out the rest of the posts in this series: