On Saturday, we shared our first set of tips for students who want to get a jump start on their applications by registering for the Universal College Application (UCA). If you're unfamiliar with the UCA, look no further than our blog. Today we share three more steps to help you make the most of your UCA, which can save you time and stress as you begin filling out your applications this summer. Be sure to check back here next week when we round out our top 10 steps for users of the UCA!
Step 5:
Complete the required short extracurricular essay. (It's located at the bottom of the "extracurriculars and work experience" page.) The prompt is, "Tell us about one of your extracurricular, volunteer, or employment activities." Although you're given a maximum of 6000 characters to draft your response, this really just needs to be a basic paragraph between 100-200 words.
Step 6:
If you're applying to a college that requires the submission of a personal statement, you'll see a red asterisk next to "write your essay" on the "personal statement" page. The prompt is, "Please write and/or upload an essay (650 words or fewer) on a topic of your choice that demonstrates your ability to organize your thoughts and express yourself. Some ideas include writing about: a person you admire; a life-changing experience; or your viewpoint on a particular current event." As you can see, it's a pretty open ended question. Check out our tips for writing standout personal statements for your college application.
Nice change from the Common App: I can't even begin to tell you how many parents contacted us with concerns over their child's essay's formatting on the Common App last year. Italicized words were increased in size; spaces between paragraphs were sometimes deleted; and indenting paragraphs was simply impossible. On the UCA, you can an upload your essay as a PDF if you want to preserve your formatting preferences, or you need to go over 6000 character maximum.
✔
Tip: If you have a YouTube video, online portfolio, or other digital link you wish to share with the admissions committee, you can include a link to it on the "personal statement" page under "multimedia information."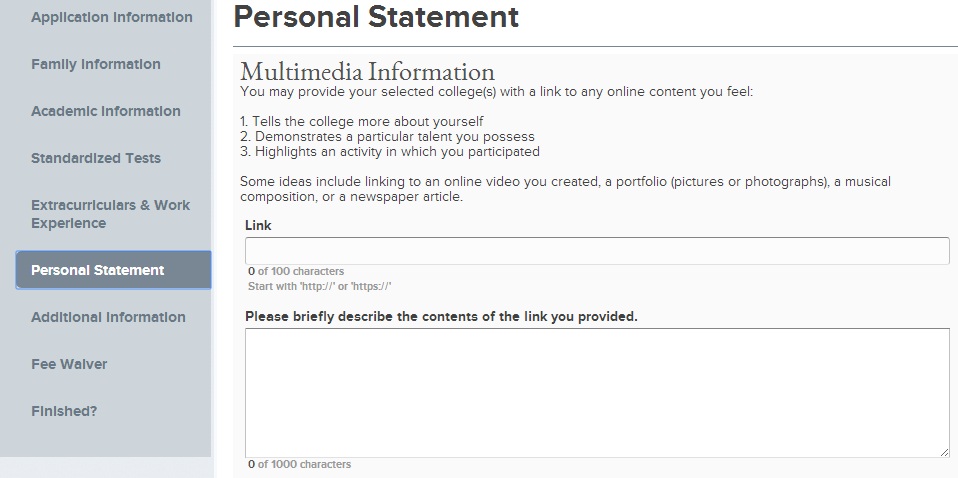 Step 7:
Finished? On the aptly named "finished?" page, you can view any possible errors or omissions in your application. With a quick click of the mouse, you will be taken directly to the section that requires your attention.
Nice change from the Common App: Rather than forcing you to click through multiple tabs on each page, the UCA allows you to seamlessly scroll down each page until you've reached the bottom of that section. With no tabs to contend with, it's easy to see all of the required pages of the application.
Another nice change from the Common App: Interested to know how your application might look once it's submitted, even if your application isn't complete yet? At the top of the application page, simply click the "print preview for" box and select the school you're interested in. Below is an example of my mock application to Brandeis.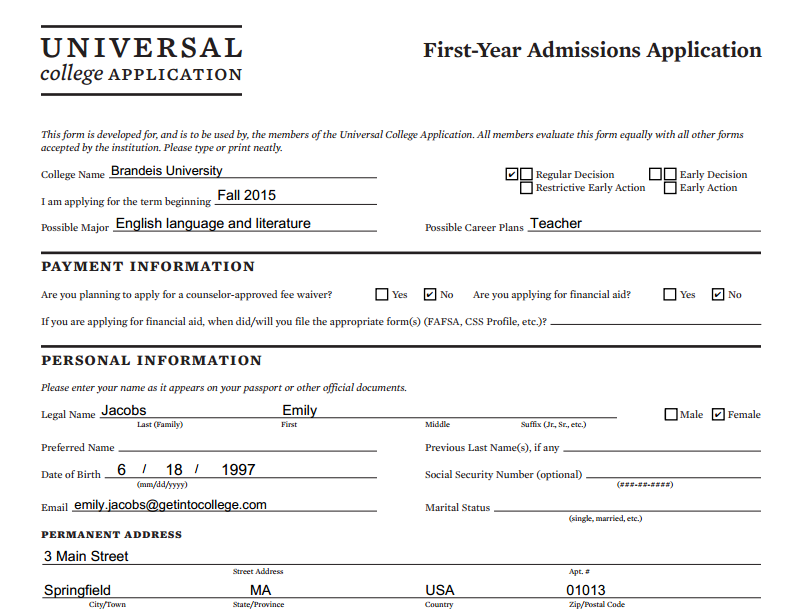 We hope you've enjoyed part two of our tips for the Universal College Application. For all of our Universal College Application tips, be sure to check out the rest of the posts in this series: