Update: Read the latest tips for the 2017-18 Common App.
Earlier this month the Common Application introduced the first in a series of webinars focused on best practices and tips for completing the Common Application. Like all presentations in the series, the first webinar, titled "What to Expect in the 2015-2016 Common Application," was geared specifically for guidance counselors.  But why should guidance counselors have all the fun? We'd like prospective applicants and their parents to get in on the Common App action, too! Unless you're desperate to sit through a recorded webinar on the ins and outs of the revised 2015 Common App, allow the experts at College Coach to happily summarize the details for you.
1. Students must add their high school name (and CEEB code) before they can invite their guidance counselor and teachers to submit letters of recommendation. It's crucial that students select the correct high school in this process, especially if they attend a high school that uses Naviance eDocs to manage the paperless submission process. If students can't easily locate their high school in the list provided by the Common App, they should try using the school's CEEB code rather than the name lookup. When in doubt, ask a guidance counselor for help!
2. Students can change their FERPA (Family Educational Rights and Privacy Act) waiver selection prior to recommendation submissions. This is good news! If a student mistakenly selects that she "does not waive" her rights to review her teachers' recommendations, she will now be allowed to change it to "waive" before the application is submitted. And we always recommend students "waive" their rights to view letters of recommendation.
3. As we pointed out last year, the only way students could see a print preview of their app was to complete every single required component of the Common App. Now, a handy "Preview" button will be available on every page. Hooray! While the print preview is indeed printable, it's not a PDF that can be saved for future use.

4. We wrote an entire blog on this topic already, but in case you missed it, one essay (about describing a place where you are "perfectly content"), is no longer one of the five essay prompts. In its place, the Common App has added a question that will allow students to highlight their analytical thinking skills and intellectual curiosity. Here's the new question: Describe a problem you've solved or a problem you'd like to solve. It can be an intellectual challenge, a research query, an ethical dilemma – anything that is of personal importance, no matter the scale. Explain its significance to you and what steps you took or could be taken to identify a solution.
5. This wasn't a personal pet peeve of mine, but I can understand that some students felt stifled when they tried to copy and paste their personal statement into the small text box provided by last year's Common App. In the 2015 version, students will be able to click on an "Open Full Screen" button to preview their piece more effectively.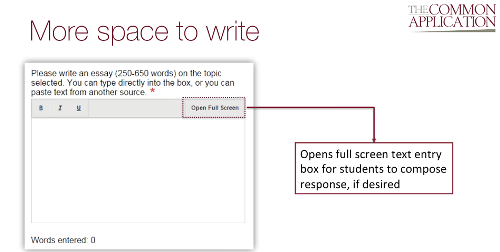 6. To expand college membership and improve access for college-bound students, the Common App no longer requires that its members include a personal statement as part of their application. Students, however, can still elect to submit a personal statement to those colleges who have made the essay an optional part of their admission process. To ensure that students are aware of the change, they must now check an "I understand" box on the "Writing" page of the application. The wording of the new rules is as follows: Some colleges require submission of the personal essay with your Common Application. You may submit a personal essay to any college, even if it is not required by that college. If not required by a college, you will be given the option during submission to include your essay or not for that college.
7. Fun! Fun! Fun! Like the rest of the Common Application, the main essay will become fully editable for all applicants at any time. No longer will students be limited to two edits (or a total of three essay versions). While the Common App does not advocate students creating new versions of their essay for each school to which they apply, they thankfully recognize that curtailing students' ability to alter their essay places undue stress on already anxious applicants!
8. There are three places on the Common App where students may be required to submit writing: on the "Writing" page (in the form of a personal statement); in a college-specific supplement under "Application;" or in a college-specific supplement under "Writing Supplement." (Now, that's not confusing at all, is it?) Last year students had a difficult time determining exactly which schools had additional essays or questions. Thankfully, the good folks at the Common App have come to the rescue. Applicants will now see a clear layout that illustrations the exact writing requirements for each school on their "My Colleges" tab.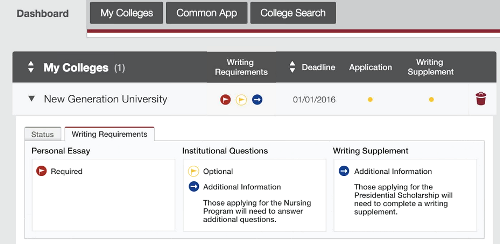 9. If you've taken (or plan to take) more than 10 AP exams, we have one good piece of news for you! You'll now be able to fit up to 15 scores on the "Testing" section of the Common App. (Last year, students could only list up to 10 AP scores.) From AP Art History to AP World History, the Common App has you covered.
10. And who doesn't love a truly happy ending? Common App tech support will now be made available to students 24/7/365. The new Solutions Center is "where you are, when you need it." Applicant chat will also be made available for those who enjoy receiving immediate feedback and troubleshooting support for all of their Common App needs. (Because really, who doesn't?)
Sometimes change is scary. Like when the College Board announces that they're revamping their infamous SAT to (effectively) compete with the more user-friendly and classroom-appropriate ACT. But in the case of changes to the 2015-16 Common App? We have to admit, we're pretty pleased! Stay tuned for more updates and tips for applying to college with the newest Common App, brought to you by your Common App experts.
Check out Elyse's other Common App articles:
Listen to Elyse's segments on the 2015-16 Common App on Getting In: A College Coach Conversation: